By mimo @digi_cassi
March 25, 2020
While subscription content is popular, DLNA streaming is still common. But have you ever wondered which DLNA client app to use? So, I tried the DLNA client application that can be used for free in iPhone and iPad.
I've used 18 apps, some of which are impractical, some of which are copy apps. In the end, I decided on the best 5 DLNA apps based on my personal subjectivity.
List of DLNA apps tried
mconnect Player Lite / 8player lite / PlayerXtreme / nPlyaer LITE / Evermusic / DiXiM Play / ML Player / VLC for Mobile / AudioRemote / TV Cast (DLNA) / UPNP Xteme / CloudBeat / Infuse / iPlayer / OPlayer Lite / Live Player / sPlayer / Flacbox
DLNA Server
The DLNA server uses the application "Media Streaming Add-on" of NAS "TS-251 Plus" made by QNAP.
The following files are registered in the DLNA distribution content on the server:

Videos : MP4 (H.264) / MP4 (H.265) / MKV (H.264) / TS (MPEG-2)
Sounds : MP3 / AAC / FLAC / ALAC
DLNA Client (player)
iPad Mini (5th gen), iOS 13.3.1
Free apps for DLNA streaming. (including some limited functionality in the trial version)
Applications that only recognize certain servers have been removed from the evaluation.
Network Environment
The server and iPad were connected via LAN. The bottleneck is Wi-Fi/IEEE 802.11ac.
I also tested DLNA playback via VPN, which I want to use personally.
Evaluated Items
I rated the app on the items listed in the table, which is what I need as a media player.
| Items | Contents of evaluation |
| --- | --- |
| Speed | Faster loading of DLNA servers and file lists. |
| Play Video | Supports MP4 (H.264, H.265), MKV (H.264), and TS (MPEG-2) format files. |
| Play Music | Supports MP3, AAC, FLAC, and ALAC format files. Recognize tags, such as cover art, properly. |
| Functionality | Plenty of file playback options. (Fast look, De-interlace, Equalizer, etc.) |
| Operability | The user interface is well thought out and easy to use. |
| Ad | Advertisements, frequency of display, and content of advertisements. |
| Other | It is available via VPN. Other noteworthy features. |
Here they are, in ranking form, in order of 5th place. Can't you use the #5 app? You may be thinking, I'm going to do this. However, I confidently declare, "No problem".
In fact, it's no exaggeration to say that all of the top five apps should be used.
5th place : mconnect Player Lite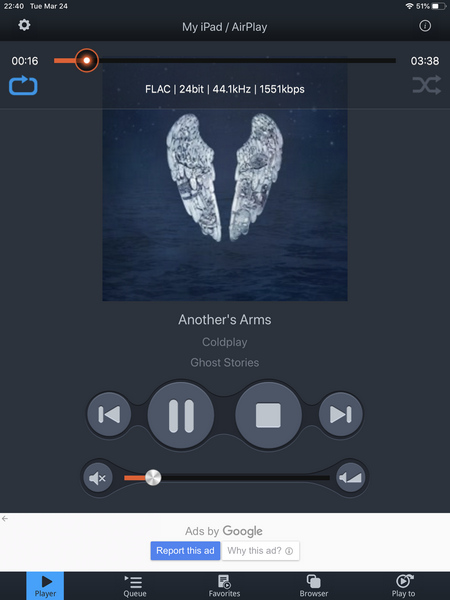 It is the DLNA player application that I loved with iPhone 5s 6 years ago. Neatly maintained and still in service. Banner ads come in, but it's much more discreet than other apps. I had no trouble with the practicality of it.
Highly recommended for

People who want a dedicated music player.Video cannot be played.
People who like simple and easy players.
People who want to avoid advertising.
4th place : Oplayer Lite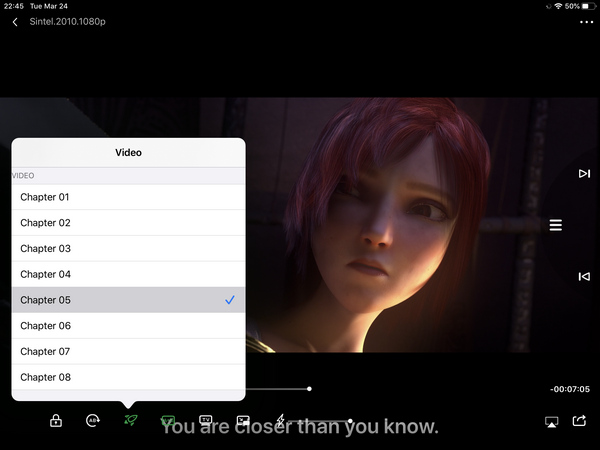 It is inferior to other DLNA apps in terms of function, but the advertisement is modest. It's an app that can play both audio and video without difficulty.
Enhanced video playback features, including the ability to recognize video chapters.
Highly recommended for

People who want to play a video file with chapters.
People who want to play both video and audio files.
People who want to avoid advertising.
3rd place : nPlayer Lite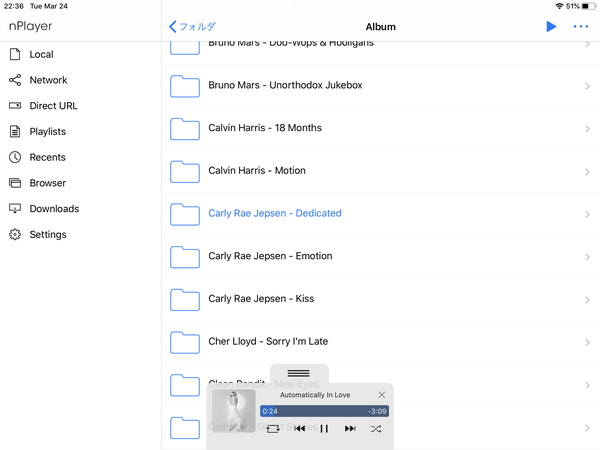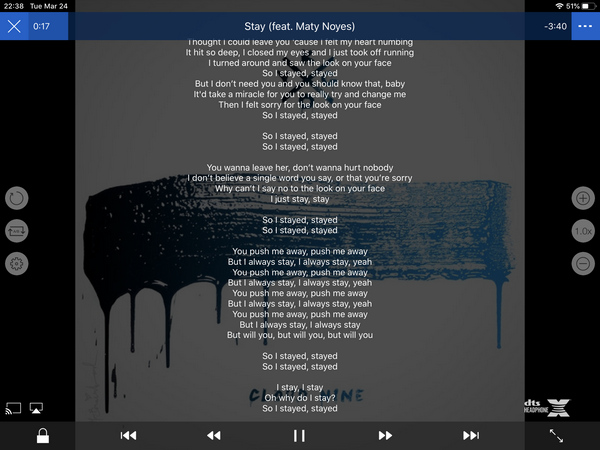 This Lite version application interjects the advertisement of the full screen before and after the file playback, and is not suitable for regular use. However, the app's design and controls are so polished that it wouldn't hurt to buy the $4.99 paid version.
When music is playing, a mini-player appears on the screen as shown in the image. It is the application that remembers the folder that I selected in the past, and is DLNA player that pays attention to the details such as highlighting.
It's an app that you want to use not only as a DLNA, but also as a regular media player.
If there were no ads, it would be #1 with no complaints.Try the lite version and buy the paid version if you like it.
It's a super versatile player that can be used over a VPN with no problem.
Highly recommended for

If you want to use a highly functional and cool player, even if it's paid for, you can.
People who want perfection in both video and audio playback.
People who want to use DLNA over a VPN.
2nd Place : Evermusic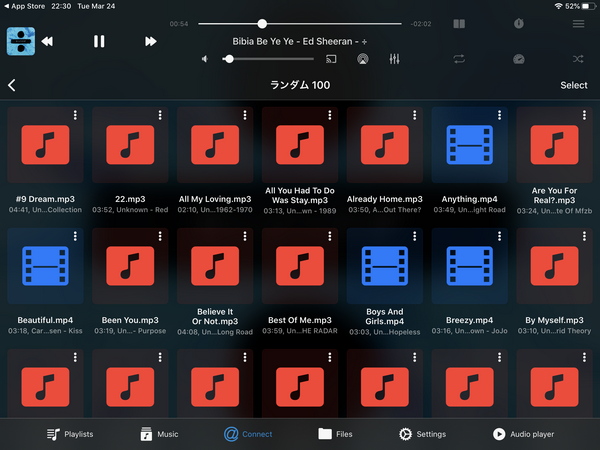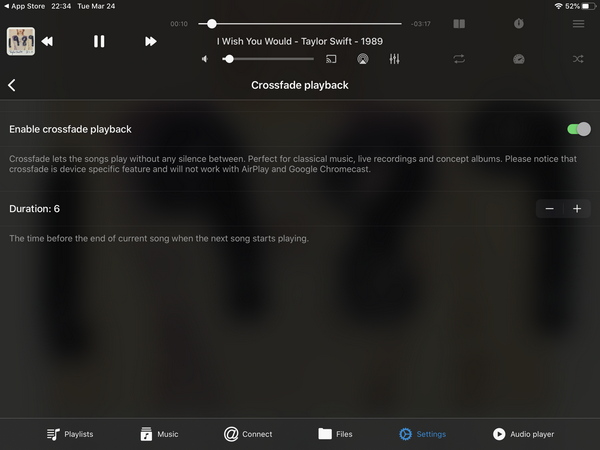 It's amazing that such a good DLNA player can be used for free. There is no hindrance to the use of the site, although it does show modest advertising. The video can not be played, but the UI of the song selection and the mini-player of music playback is cool.
You can also use DLNA via VPN, so you can enjoy the music stored on your NAS on the go. I feltit was an unbeatable DLNA app for music playback. The crossfade feature is perfect for those who want a comfortable listening environment.
Highly recommended for

If a dedicated music DLNA player is enough for you
People who want an exceptional music player for free
People who want to avoid advertising.
People who want to use it via VPN.
1st place : VLC for Mobile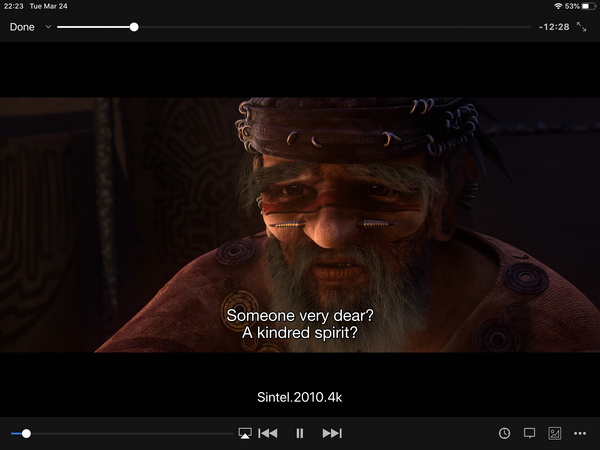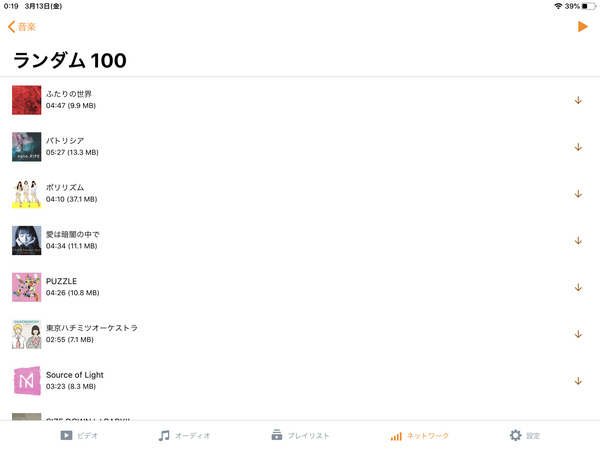 It's an open source player that is being developed on multiple platforms. I'm sure many of you are already using this product. I continued to use it, and it was an excellent DLNA player.
In addition to the wide range of video and audio codec support that VLC excels at, there are plenty of options for video playback.
The app can play 4K MKV files, and there is a de-interlacing function, and it is full of gratitude to the people of the VideoLAN project to be able to use such a high-functioning app for free.
Highly recommended for

For those who want to play both video and audio (recommended for those who mainly play video).
People who want to customize the player's playback settings to their liking.
People who never want to see ads.
I single-handedly ranked them from 1st to 5th, but there were many things that bothered me about ranking them.
If you mainly use music, Evermusic is the way to go, and if you want video, VLC is the way to go. The usability of the app varies greatly depending on the user's media style.
Please install the five apps I've introduced this time and find the one you like.
By the way, I'm shocked that the two paid apps I purchased in the past are not currently being maintained and were almost useless. The app style that is difficult to monetize seems to make the update itself tough.
In another article, I'll introduce the DLNA compatible apps for Android.